Making innovative treatments go the distance
"It's a small world after all." For two people in particular who lead very different lives, that popular phrase holds significant meaning and hope.
Henry Grun, a lawyer, and Terra Bibb, a stay-at-home mom, are forever linked by a place that is world renowned and recognized for connecting people around the world to innovative lifesaving therapies. That place is the IDD – the Institute for Drug Development at the Cancer Therapy & Research Center (CTRC) at the UT Health Science Center San Antonio.
Henry Grun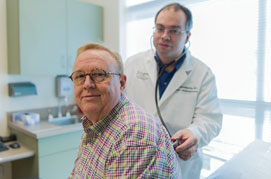 Henry Grun thought he was going to die after he learned his renal cell cancer had metastasized to his liver and lungs."My doctor told me, 'You ought to travel.' I took that as code for 'You better work on your bucket list right now,'" he said.
Fortunately, CTRC researchers had explored a new combination of a tumor-fighting drug called chloroquine with a chemotherapy drug called vorinostat. The results were promising and Grun's physician at the CTRC immediately enrolled him in the study. Grun received the drug in a pill form on three-week cycles. After more than 60 cycles, he was able to resume his law practice and live a normal life for more than three years after his diagnosis.
Terra Bibb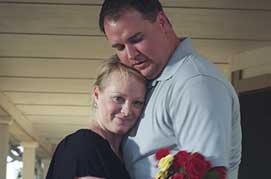 Terra Bibb was eight months pregnant with her third child when she was diagnosed with a deadly brain tumor. She delivered her baby boy early and, at the same time, surgeons removed the tumor.
But after standard radiation and chemotherapy, the tumor began to grow back. At the CTRC, Bibb was placed on an IDD Phase II oral drug study. The tumor began to shrink and soon stabilized.
For more than five years now, Terra has continued to do well and travels from her home in Tyler to the CTRC every six weeks for her treatments. "It was a miracle," Bibb said. "Doctors had given me six to 12 months to live and I'm still here. I feel like I wouldn't be alive if I hadn't gone on the study," she said. "I can take care of my kids and do everything a normal mom can do. To have a chemo in a pill form – that's amazing to me. It's so important to do that kind of research they're doing at the IDD."
The IDD
As a leader in developing new drugs to treat cancer, the IDD at the CTRC conducts one of the largest oncology Phase I clinical drug programs in the world. More than 4,000 patients have been treated in early phase trials. With trial locations available to patients in more than 47 counties throughout South Texas, the CTRC is bringing new hope and health to a wider population by shrinking the distance patients need to travel to receive the latest and greatest cancer treatments available.