Texas Biomedical Research Institute

Less than 15 minutes from our main campus is Texas Biomedical Research Institute, where several of our students pursue research lab rotations and graduate research work. Texas Biomed is one of the world's leading independent biomedical research institutions dedicated to the advancement of human health through basic research into the nature, causes, prevention, and eradication of disease. Texas Biomed has disease study areas in:
| | | |
| --- | --- | --- |
| | | Hospital Acquired Infections (MRSA/Sepsis) |
| Diabetes, Heart Disease & Metabolic Disorders | | Leading Infectious Diseases (HIV/Malaria/TB) |
| | Hemorrhagic fever viruses (Ebola, Lassa, Dengue) | |
| Emerging Infectious Diseases  |   |   |
If you are interested in any of the research areas, we encourage you to take a look at the research scientists in each field.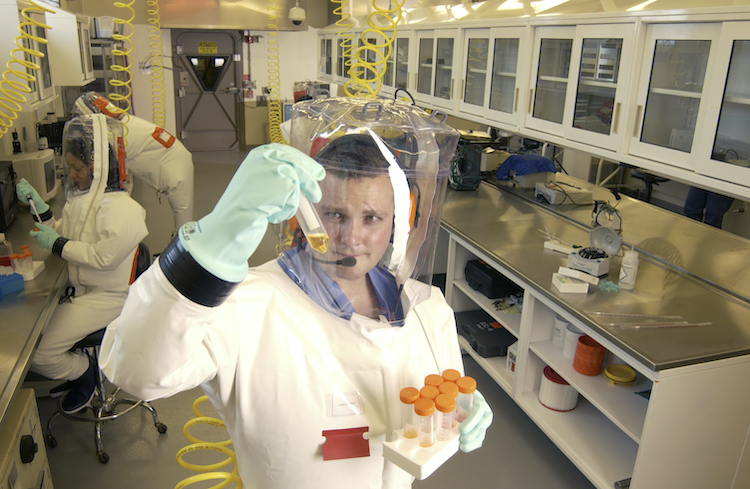 Photo courtesy of Texas Biomed.
Texas Biomed augments the MSTP student experience by providing access to cutting-edge resources that enrich and supplement their graduate training. For example, Texas Biomed hosts one of only six BSL-4 labs in North America. This unique resource allows our virology and immunology students access to train to become leaders in fighting diseases and bioterror agents, such as SARS, Anthrax, Ebola virus, and more. The Southwest National Primate Research Center supports scientists in studying nonhuman primates, a close genetic match to humans. By studying these animals in a controlled environment, scientists are better equipped to identify biological processes that contribute to disease in humans. The Genomics Research Center leads the advancement of statistical methods for genetic epidemiological research with one of the world's largest computer clusters for human genetic and genomic research. In the Genomic Research Center, scientists hold expertise in protein science, metabolic science, genetics, and complex data integration and analysis with state-of-the-art high throughput instrumentation, such as a mass spectrometer. For more information, please visit the Texas Biomed Resources page. 
Take a virtual tour today: