Radiological Sciences Academics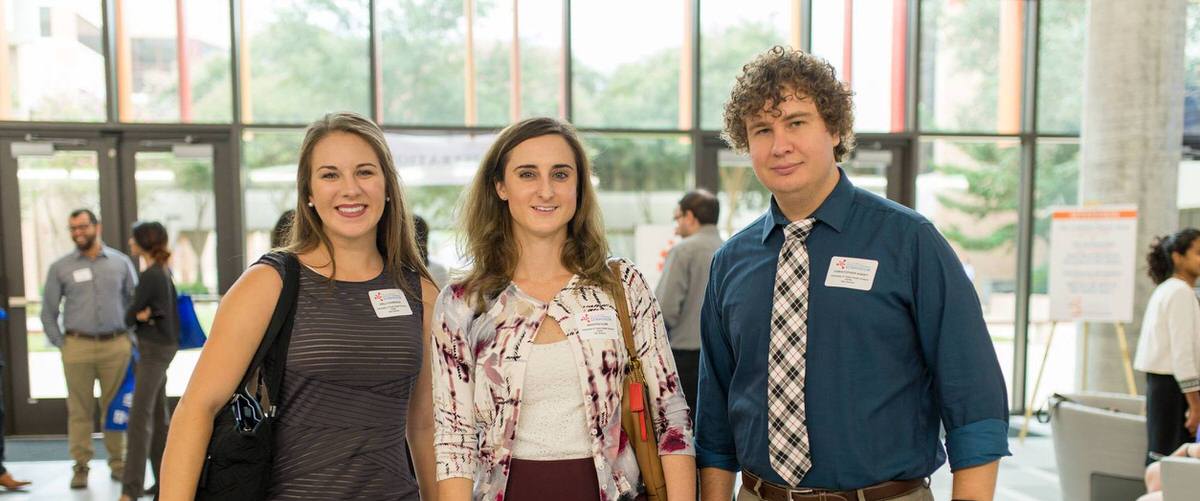 The Graduate Program in Radiological Sciences prepares students for a career in Medical Physics, Neuroscience Imaging, or Radiation Biology. Our students are actively engaged in translational research and education activities related to the application of radiant forms of energy to the diagnosis and treatment of human diseases.
*This program is not designed to prepare students for a career as a radiation technologist, radiation therapist, or radiation dosimetrist.
Radiological Scientists perform innovative cross-disciplinary research in biology, chemistry, physics, neuroscience, and computer science. 
Research activities in the program are initiated by faculty and students. World class research opportunities are available at the  Research Imaging Institute and UT Health San Antonio MD Anderson Cancer Center. The past record of innovation and creativity of the faculty has created an environment in which cutting-edge student research is not only possible but actively encouraged. The activities of the program are designed to develop the professional, didactic, and scientific/investigational skills of students and faculty. Please contact us directly if you have any questions. 
The research program in Radiological Sciences acts as a bridge between basic sciences and the application of such knowledge in the diagnostic and therapeutic processes of  medicine.  
Doctoral degree programs are offered in studies that are organized into four tracks: 
- Medical Physics (Therapeutic or Diagnostic Medical Physics)*  
- Radiation Biology 
- Neuroscience Imaging  
- Human Imaging (Physician Resident/ Ph.D.) 
Academic Plans by Track
The Graduate Program in Radiological Sciences (GPRS) is a consolidated program in the Graduate School of Biomedical Sciences (GSBS) at the University of Texas Health Science Center in San Antonio. The consolidation of the program was approved by the Texas Higher Education Coordinating Board in September 2013. The result is an extremely transdisciplinary graduate program with students from diverse educational backgrounds including physics, medicine, biology, neuroscience, computer science, and bioengineering.
Thus, the GPRS is a multi-disciplinary program that prepares students to participate in the development and transmission of scientific knowledge concerning the uses of radiant energy forms in the diagnosis and treatment of human disease.
The degrees offered are:
1. Ph.D. degree in Radiological Sciences, specializing in Radiation Biology (CIP code 26.0209.01)
2. Ph.D. degree in Radiological Sciences, specializing in Neuroscience Imaging (CIP code 26.0209.02)
3. Ph.D. degree in Radiological Sciences, specializing in Human Imaging (CIP code 26.0209.03)
4. Ph.D. degree in Radiological Sciences, specializing in Medical Physics (CIP code 26.0209.04)
The M.S. degree program in Medical Health Physics (CIP code 51.2205.00) is highly integrated with the medical physics track of the Ph.D. program in Radiological Sciences, sharing coursework, faculty and accreditation status. Only the Medical Physics Ph.D. program and Medical Health Physics M.S. program are accredited by CAMPEP.
While there is a variation between the M.S. and Ph.D. programs graduate degree requirements, both programs have in common a period of pre-candidacy studies: typically involving intensive coursework and training in the basic skills of research, scholarship and professional practice appropriate to the discipline. This is followed by a period of post-candidacy studies in which research work is applied toward the completion of final degree requirement. Students demonstrate their readiness for advancement to candidacy by successful completion of a qualifying examination.
For Ph.D. students, both degree and track name are printed on the diplomas and transcripts. The GSBS does not award Latin honors or other distinctions, so the line normally devoted towards honors (i.e. Cum Laude) is used by the UT Health San Antonio GSBS to designate the sub-plan. For M.S. students there is only one track and the third line is left blank. The following are examples of how the three lines would be utilized:
Doctor of Philosophy
Radiological Sciences
Medical Physics
Master of Science
Medical Health Physics
*The Medical Physics track is accredited by the Commission on the Accreditation of Medical Physics Education Programs (CAMPEP). Our medical physics graduate program was the sixth accredited program in the nation. 
The curriculum provides a core of fundamental knowledge through a synergistic program of formal courses, seminars, teaching opportunities and hands-on research experience.  The Radiological Sciences Ph.D. program is designed to be completed in 4-5 years. In addition to  coursework, students will gain conceptual and methodological foundations in biomedical sciences and develop critical thinking and practical skills through hands-on experience.   
Degree Requirements: 
A minimum of 72 credit hours and a minimum overall GPA of 3.0 is required for the Ph.D. degree. In addition, all doctoral candidates must register for RADI 7099 Dissertation for at least two semesters in order to graduate. The student is required to demonstrate intellectual command of the subject area of the graduate program and capability to carry out independent and original investigation in the area. The student must successfully defend a dissertation and be recommended by their program COGS for approval of their degree to the Dean of the Graduate School of Biomedical Sciences.
Course Descriptions 
UT Health San Antonio Catalog Course Descriptions in Radiology 
Course Syllabi 
Study Plans 
- Ph.D. Neuroscience Imaging Track
- Ph.D. Radiation Biology Track
- M.S. in Medical Health Physics
Research Facilities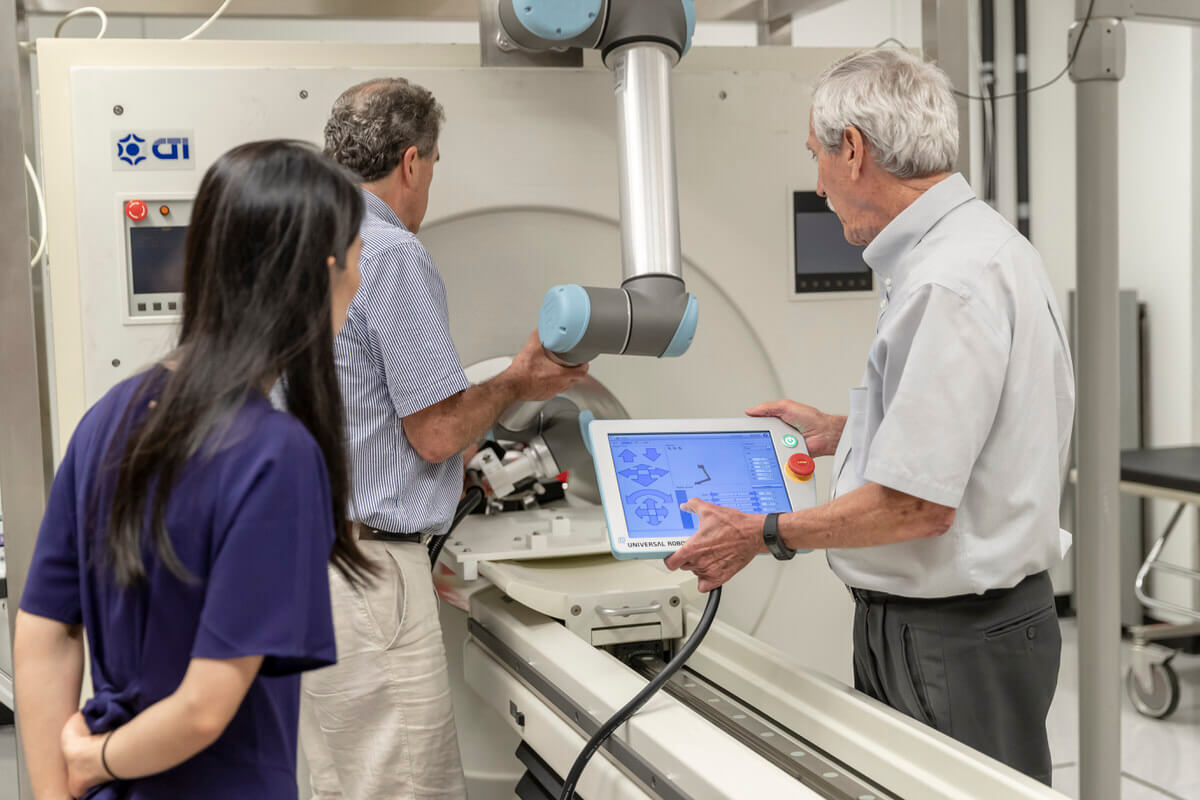 Research Imaging Institute (RII) 
Most students using imaging for their research will be located here. The RII has two Siemens 3T magnetic resonance imaging (MRI) systems, three Bruker small-animal Imaging systems, two positron emission tomography (PET) systems and the capability to produce customized radionuclides using the institute's cyclotrons. These Imaging systems are used to evaluate pathology, physiology and biochemistry in living subjects.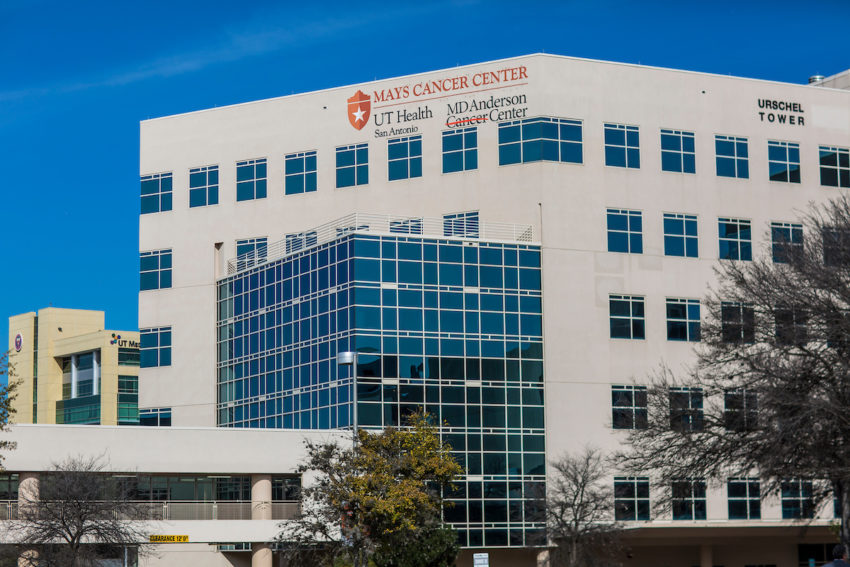 UT Health San Antonio MD Anderson Cancer Center
Students learning therapy medical physics will have their offices located here. The Radiation Oncology Clinic houses four clinical vaults and a brachytherapy suite. The clinic uses a variety of technology including two new Elekta Versa HD linear accelerators with Catalyst systems, which track patient movement during treatment. We also have radiation producing systems that are dedicated to research projects. 
Doctorate of Medical Physics
Students who may not be interested in academic research are invited to review the CAMPEP accredited Doctorate of Medical Physics (DMP) program.