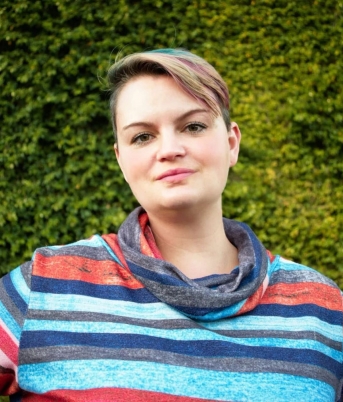 Programs
IBMS Discipline
Mentor
Angela Olson Dorigatti
Ph.D. Student
Biography
Angela Olson is a graduate student in Dr. Veronica Galvan's lab where she is working on research related to Alzheimer's Disease at The Barshop Institute for Longevity and Aging Studies. As an aging researcher, she is interested to test whether some of these aging interventions could slow or halt the progression of AD. Her research has put a spotlight on tau, a protein involved in the pathogenesis of neurodegeneration, and how tau may exacerbate brain inflammation. She has found that tau can enter astrocytes (specialized glial cells that are important in neuronal homeostasis) which then induces senescence, causing cells to stop dividing and release pro-inflammatory proteins. This pro-inflammatory environment, in turn, damages neurons and leads to neurodegeneration in AD.
She is currently treating mice with senolytics which selectively remove senescent cells to determine whether the removal of these cells can ameliorate cognitive deficits in AD.
Publications
Technical Acknowledgement. Schmidt, K., & Loeb Belinsky, K. (2013). Voices in the dark: Predation risk by owls influences dusk singing in a diurnal passerine. Behavioral Ecology and Sociobiology, 67(11), 1837-1843.
Van Skike, C. E., J. B. Jahrling, A. B. Olson, N. L. Sayre, S. A. Hussong, Z. I. Ungvari, J. D. Lechleiter and V. Galvan (2017). "Inhibition of mTOR protects the blood-brain barrier in models of Alzheimer's disease and vascular cognitive impairment." Am J Physiol Heart Circ Physiol.
Education
B.S, Biology, Texas Tech University 
Associate Degree in Art and Sciences, University of Wisconsin
Awards
2019- Outstanding Scientific Poster Presentation Award, Texas Alzheimer's Research and Care Consortium
2019- ASPET Fellowship
2017 Steunebrink Scholarship
2017- T32 NIA Biology of Aging Training Grant
2017- UTHSCSA Endowed Students Scholarship
2017- Poster Award, Barshop Student Day
2016- Bennie W. Schreck Scholarship
2007- Graduated with High Honors and Highest Honors, University of Wisconsin-Washington County
2007-2009 Dean's List, Texas Tech University
2007-2009 Washington County Campus Foundation Scholarship
2007-2009 Kenneth G. Marsden Scholarship
2007-2009 Texas Tech Phi Theta Kappa Alumnus Scholarship
Related Media