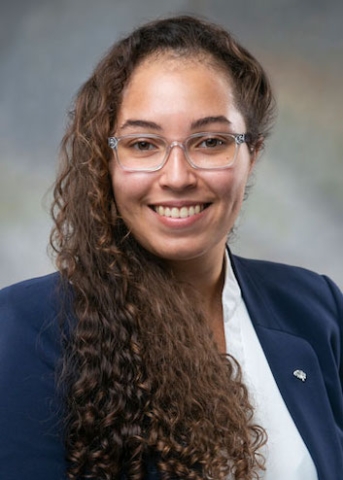 Programs
IBMS Discipline
Mentor
Anne Wells
M.D./Ph.D.Student
Biography
Anne Wells is a graduate student in the South Texas Medical Scientist Training Program (MD/PhD Program) studying functional genomic properties of neuropsychiatric diseases under the mentorship of Noboru Hiroi, PhD. For her research, Anne is studying the neurodevelopmental role of Tbx1, a gene within a commonly deleted segment of 22q11.2 gene locus, as a driver gene for cognitive deficits seen across neuropsychiatric diseases, and its effect on downstream target FoxG1, a critical gene for myelination of the forebrain. For her clinical specialty, Anne is considering pursuing neuropsychiatry.
About me
Anne (her/she) is a native of Houston, TX who attended Rice University for undergraduate pre-clinical studies. Her interest in the intersection of women's and mental health led her to traveled  widely (Peru, Chile, Nicaragua, Mexico, Bolivia, Spain, UK, Prague, Poland, Germany, and Cameroon) working on public health and epidemiology before becoming a public-school teacher and pursuing a Master of Science degree from Boston University focused on Neuroscience. She has a labradoodle named Chuki and is always looking for someone to play a board game with or go on a new hike.
Hobbies/Interests
hiking, games (all kinds), bouldering, reading, movies, foodie :)
Research Topic
Leveraging genetic and molecular techniques to determine the underlying causes of neuropsychiatric disease features
Why I chose MD/PhD
I chose to pursue the MD/PhD training pathway in order to integrate the study and techniques of neuroscience into the clinical practice of psychiatry. This passion came from the realization that when people have significant mental health challenges, they are unable to function and live productive lives, and there are many gaps in knowledge that currently prevent addressing those challenges fully in the clinic. I'd like to be a part of the neurobiological renaissance that aims to bridge those clinical gaps with the power of scientific inquiry.
Publications
Bowman M.A., Gomez J.A., Mitchell N.C., Wells A.M., Vitela M., Clarke K.M., Horton R.E., Koek W., Daws L.C.. Faster Serotonin Clearance in CA3 Region of Hippocampus and Antidepressant-like Effect of Decynium-22 in Juvenile Mice Are Putatively Linked to Increased Plasma Membrane Monoamine Transporter Function: Implications for Efficacy of Antidepressants in Juveniles. Cells. 2022; 11(15):2454. https://doi.org/10.3390/cells11152454
Kanakia, K. P., Wells, A. M., Tchoulhakian, M., Iskra, B. S., Kaculini, C., Tavakoli-Samour, S., Boyd, J. T., Hafeez, S., Seifi, A., & Dengler, B. A. (2021). Factors Affecting Outcomes in Geriatric Traumatic Subdural Hematoma in a Neurosurgical Intensive Care Unit. World neurosurgery, S1878-8750(21)01705-8. Advance online publication. https://doi.org/10.1016/j.wneu.2021.11.004
Wells, A. M., García-Cabezas, M. Á., & Barbas, H. (2020). Topological atlas of the hypothalamus in adult rhesus monkey. Brain structure & function, 225(6), 1777–1803. https://doi.org/10.1007/s00429-020-02093-8
Zhong, Q. Y., Wells, A., Rondon, M. B., Williams, M. A., Barrios, Y. V., Sanchez, S. E., & Gelaye, B. (2016). Childhood abuse and suicidal ideation in a cohort of pregnant Peruvian women. American journal of obstetrics and gynecology, 215(4), 501.e1–501.e5018. https://doi.org/10.1016/j.ajog.2016.04.052
Education
B.A., Latin American Studies, Rice University, 2016
M.S., Biomedical Science, Boston University, 2020
Awards
2022-2023   T32 Training Grant in Neuroscience - NS082145 
2022-2024   Society for Neuroscience, Neuroscience Scholars Program - R25NS089462