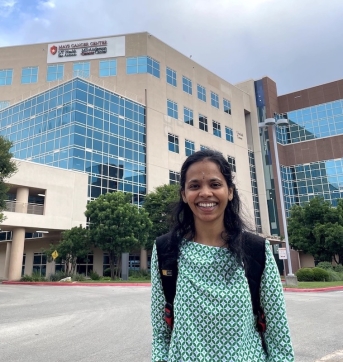 Mentor
Bhuvaneswari Narayanan
DMP Student
Biography
1st year graduate student in the Doctor of Medical Physics program on the Therapy track. Plan to pursue a career as a clinical scientist in Radiation Oncology department upon graduation.
Track/Discipline: Therapy
Publications
Murali V, Gopalakrishna Kurup PG, Bhuvaneswari N, Sudahar H, Muthukumaran M. Monte Carlo and ray tracing algorithms in the cyberknife treatment planning for lung tumours- comparison and validation. J Radiosurg SBRT. 2013;2(2):85-98.
Ganapathy K, Kurup PG, Murali V, Muthukumaran M, Bhuvaneshwari N, Velmurugan J. Patient dose analysis in total body irradiation through in vivo dosimetry. J Med Phys. 2012;37(4):214-218. doi:10.4103/0971-6203.103607
Vivekanandan N, Sriram P, Kumar SA, Bhuvaneswari N, Saranya K. Volumetric modulated arc radiotherapy for esophageal cancer. Med Dosim. 2012 Spring;37(1):108-13. doi: 10.1016/j.meddos.2011.01.008. Epub 2011 Sep 21. PMID: 21940159.
Education
M.Sc., Medical Physics, Anna University, 2010
B.Sc., Physics, University of Madras, 2008