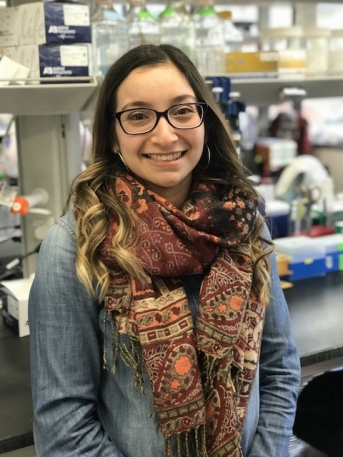 Programs
IBMS Discipline
Mentor
Elizabeth Ochoa Thomas
Ph.D. Student
Biography
Elizabeth Ochoa Thomas is a fifth-year graduate student in the Cell Biology, Genetics and Molecular Medicine Discipline of the Integrated Biomedical Sciences program at UT Health San Antonio. Elizabeth earned her undergraduate degree in from Seattle University, where she worked on organometallic triple decker complexes in the laboratory of Dr. Eric Watson, S.J. Elizabeth is currently interested in the role of transposable element activation as a driver of neuroinflammation in brain aging and neurodegenerative disorders. 
Publications
Ochoa Thomas, E., Zuniga, G., Sun, W., and Frost, B. Awakening the dark side: Retrotransposon activation in neurodegenerative disorders. Curr Opin Neurobiol. February 2020, 61, 65-72.
Ochoa, E.M., Watson, A.W., Fagnan, E.N., Pike, R.D., and Watson, E.J. Synthesis and Structures of Octamethylmetallocenes of Osmium. Journal of Inorganic and Organometallic Polymers and Materials.August 2013, 24, 1, 95–100.
Ghag, S.K, Tarlton, M.L., Henle, E.A., Ochoa, E.M.,Watson, A.W., Zakharov, L.N., and Watson, E.J. Synthesis and Structures of Triple-Decker Complexes with a Bridging Tetramethylcyclopentadienyl Ligand. Organometallics.February 2013, 32, 6, 1851-1857.
Education
B.S. Biochemistry, Seattle University, 2013
Awards
Initiative for Maximizing Student Development True Grit 2017-2018
Initiative for Maximizing Student Development Heart of the IMSD 2018-2019
Related Media