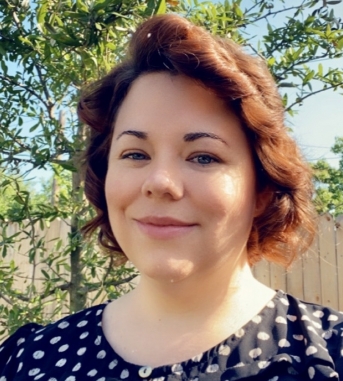 Programs
IBMS Discipline
Mentor
Jessica Scheirer
Ph.D. Student
Biography
My long-term research goal is to understand the mechanisms behind epigenetic regulation of transcriptional programs and how these epigenetic regulated pathways play a role in cancer and aging. The Xu laboratory investigates the essential roles of epigenetics in regulation of context-specific transcriptional programs and how this regulation contributes to the development of cancer. My research project is focused on investigating the role of the PRC2 associated LCOR isoform 1 (PALI 1) protein and the histone-lysine N-methyltransferase, Enhancer of Zeste Homology 2 (EZH2) in the context of breast cancer.
Hometown: Douglassville, PA
Hobbies: Hiking, Gardening, Walking (with my dogs Pilot and Toby), Traveling, and Reading (Fiction – Action/Adventure)
Publications
Publications
Melanson V, Scheirer J, Van de Wyngaerde M, Bourzac K, Wu S, Kochel T, McAvin J. Leveraging of arthropod-borne disease surveillance assay for clinical diagnostic use, Military Medicine. 2014; 179(11): 1207-11
Melanson V, Scheirer J, Kalina W, Wagar E. Real-time Leishmania genus master mix: A stability and platform compatibility study, Diagnostic Microbiology & Infectious Disease. 2014; 80(2):97-101.
Harrison G, Scheirer J, Melanson V. Development and validation of an arthropod maceration protocol for zoonotic pathogen detection in mosquitoes and fleas, Journal of Vector Ecology. 2015; 40(1):83-9.
Posters:
Scheirer J, Chinchankar M, Fisher A, Rodriguez K. Optimization of a C. elegans Protein Extraction Method for Proteasome Kinetic Assay and Western Blot Analysis. Created for the 2019 Barshop Conference on Aging, October 10-13, 2019.
Pfuhler S, Aardema A, Roy S, Scheirer J, Jois M, Kulkarni R, Mun G, Wilt N, Costin E, Curren R, Barnett B, Hoffmann S, Hewitt N, Desprez B, Ouédraogo G, Fautz R. Validation of the 3D Human Reconstructed Skin Micronucleus Assay (RSMN) and its Application to Safety Assessment. Created for the 12th International Conference & 5th Asia Congress on Environmental Mutagens, November 12-16, 2017.
Salah A, Nabil B, Zaatour A, Gharbi A, Chen H, Morkowski S, Needham J, Stevens Y, Raychaudhuri S, Hochberg L, Scheirer J, Grogl M, Kreishman-Detrick M, Jasper L, Rice R, Norwood J, Magill A, Houghton R. CL Detect Rapid Test for Cutaneous Leishmaniasis used in Combination with Dental Broach Sampling Device: Evaluation of Assay Performance Against Microscopy & Leishmania Real-time PCR. Created for the Fifth World Congress on Leishmaniasis, May 13-17, 2013.
Scheirer J, Clark M, Holmes S, Wagar E, Hochberg L, Van de Wyngaerde M, Melanson V. Real-time Leishmania Genus Master Mix: A Stability Study & Platform Comparability Study. Created for the American Society of Tropical Medicine and Hygiene 2012 Annual Meeting.
Van de Wyngaerde M, Richardson J, Kochel T, Hochberg L, Wu S, Scheirer J, Gilmore W, Melanson V. Clinical Relevance of a Dengue Lyophilized Assay on the JBAIDS Platform. Created for the American Society of Tropical Medicine and Hygiene 2012 Annual Meeting.
Education
B.S., Biology, Albright College, 2007
M.P.S., Biotechnology, University of Maryland, Baltimore County (UMBC), 2015
Awards
Recipient of Entomology Branch at Walter Reed Army Institute of Research, Clinical Research Management On the Spot Award for Outstanding Performance (2012)
Recipient of the Thermo Fisher Scientific Inspire, Influence, & Impact – Quarterly Impact Award for Outstanding Achievement, Team (2010)
Recipient of the Charles River Value - Improvement Through Teamwork Award (2008)
Recipient of the Lucille Griswold Albright Prize, an academic biology award (2007)