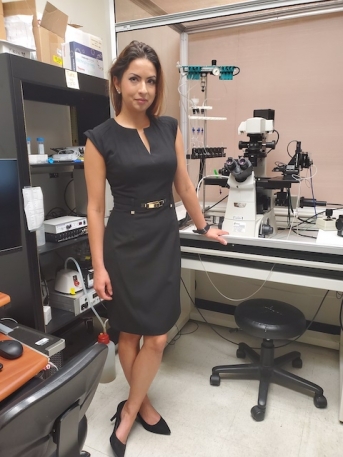 Programs
IBMS Discipline
Mentor
Karen Lindquist
Ph.D. Student
Biography
Karen Ann Lindquist is interested in how inflammation affects neuronal excitability.  
Publications
Lindquist, K.A., Belugin, S., Hovhannisyan, A.H., Corey, T.M., Salmon, A., Akopian, A.N., 2021. Identification of Trigeminal Sensory Neuronal Types Innervating Masseter Muscle. eneuro ENEURO.0176–21... doi:10.1523/eneuro.0176-21.2021
Phensy, A., Lindquist, K.L., Lindquist, K.A., Bairuty, D., Gauba, E., Guo, L., Tian, J., Du, H., Kroener, S., 2020. Deletion of the Mitochondrial Matrix Protein Cyclophilin-D Prevents Parvalbumin Interneuron Dysfunction and Cognitive Deficits in a Mouse Model of NMDA Hypofunction. The Journal of Neuroscience 40, 6121–6132.. doi:10.1523/jneurosci.0880-20.2020
Phensy A, Driskill C, Lindquist K, Guo L, Jeevakumar V, Fowler B, Du H, Kroener S (2017) Antioxidant treatment in male mice prevents mitochondrial and synaptic changes in an NMDA receptor dysfunction model of schizophrenia. eNeuro. 4(4). pii: ENEURO.0081-17.2017. doi: 10.1523/ENEURO.0081-17.2017.
Education
MS., Applied Cognition and Neuroscience, University of Texas at Dallas, Richardson, TX, 2018
BS., Neuroscience, Psychology minor, University of Texas at Dallas, Richardson, TX, 2015