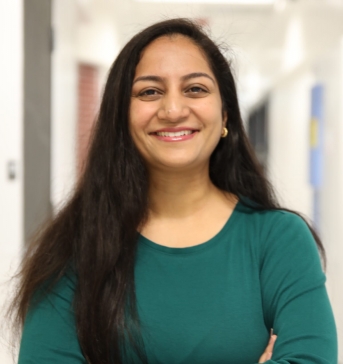 Programs
IBMS Discipline
Mentor
Manpreet Semwal
Ph.D. Student
Biography
Manpreet's research focuses on addressing the physiological functions of reactive oxygen species (ROS) in stromal cells in the young, steady state thymus. She is working in Dr. Griffith's lab that focuses on identifying lymphopoietic stromal microenvironment in the thymus and, the causes and consequences of age-associated thymic stromal dysfunction. Their long-term goals includes revealing novel lymphopoietic stromal functions in the young, steady state thymus, and boosting thymus function during aging.
Research Topic: Redox regulation of autophagy in thymic stromal cell function.
Publications
Cepeda, Sergio & Cantu, Carolina & Orozco, Stephanie & Xiao, Yangming & Brown, Zoe & Semwal, Manpreet & Venables, Thomas & Anderson, Mark & Griffith, Ann. (2018). Age-Associated Decline in Thymic B Cell Expression of Aire and Aire-Dependent Self-Antigens. Cell Reports. 22. 1276-1287. 10.1016/j.celrep.2018.01.015. 
Vartak, R.S., Semwal, M.K. & Bai, Y. An update on complex I assembly: the assembly of players. J Bioenerg Biomembr 46, 323–328 (2014). https://doi.org/10.1007/s10863-014-9564-x
Education
B.S., Microbiology, University of Mumbai
M.S., Microbiology, University of Mumbai 
Awards
2020: AAI trainee abstract award
2020: MIMG Travel Award
2019: GSBS Travel Award
2019: MIMG Travel Award
2018: 2nd Place Poster Presentation Award at Vaccine Development Center of San Antonio Conference
Related Media