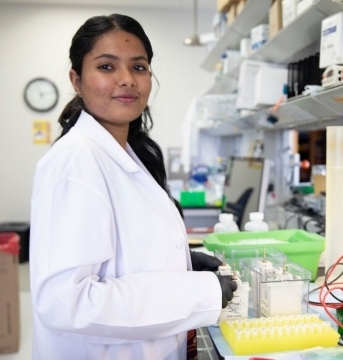 Programs
IBMS Discipline
Mentor
Rathipriya Viswanathan
Ph.D. Student
Biography
Rathipriya is researching the mechanism by which PERK, an ER stress sensor which is part of the Unfolded protein response, gets activated and degraded and it's role in Tau mediated neurodegeneration. High PERK levels has been correlated with high levels of Tau in post mortem human brains with neurodegeneration but the exact relationship between Tau and PERK has not been studied. 
Publications
Craig T. Werner, Rathipriya Viswanathan, Jennifer A. Martin, Pedro H. Gobira, Swarup Mitra, Shruthi A. Thomas, Zi-Jun Wang, Jian-Feng Liu, Andrew F. Stewart, Rachael L. Neve, Jun-Xu Li, Amy M. Gancarz, David M. Dietz,E3 Ubiquitin-Protein Ligase SMURF1 in the Nucleus Accumbens Mediates Cocaine Seeking, Biological Psychiatry, Volume 84, Issue 12, 2018, Pages 881-892, ISSN 0006-3223, https://doi.org/10.1016/j.biopsych.2018.07.013 (http://www.sciencedirect.com/science/article/pii/S0006322318316834)
Martin JA, Caccamise A, Werner CT, Viswanathan R, Polanco JJ, Stewart AF, Thomas SA, Sim FJ, Dietz DM. A Novel Role for Oligodendrocyte Precursor Cells (OPCs) and Sox10 in Mediating Cellular and Behavioral Responses to Heroin. Neuropsychopharmacology. 2018 May;43(6):1385-1394. doi: 10.1038/npp.2017.303. Epub 2017 Dec 20. PMID: 29260792; PMCID: PMC5916371.
Education
M.S., Neuroscience, University at Buffalo, 2018
B.Tech., Biotechnology, SRM University, India, 2016
Awards
BBC 2017 Travel award, UTHSCSA
Related Media