Meet the Chair
Meet the Chair
Developmental Dentistry Interim Chair
Maria Jose Cervantes Mendez, DDS MS FAAPD
Dr. Cervantes currently serves as the Postdoctoral Program Director in Pediatric Dentistry and Developmental Dentistry interim department chair. Her research interests include human growth and development, cleft lip and palate, restorative materials and caries prevention. She is a Diplomate of the American Board of Pediatric Dentistry and an active member of the American Academy of Pediatric Dentistry, American Dental Association, American Association of Orthodontists, Texas Academy of Pediatric Dentistry and San Antonio Academy of Pediatric Dentistry.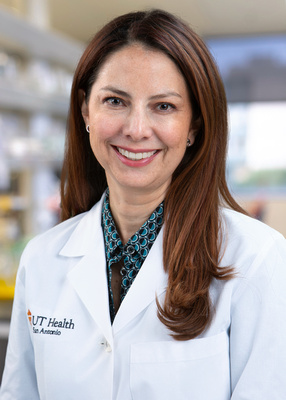 The Department of Developmental Dentistry consists of growth and development, including orthodontics, and dentistry for children. The goals of our programs are to ultimately teach and provide optimal oral and craniofacial health. This commitment is underscored by our pursuit of excellence in basic, behavioral, transitional and clinical research and in the provision of exemplary clinical care. Our philosophy of care encompasses the early identification, prevention, and treatment of oral and craniofacial disease. San Antonio is one of the most pleasant cities in which to live, but it represents an enormous challenge, as we are located in an area of significant oral and general health disparity.
We are particularly proud of our faculty who have achieved national and international acclaim in their respective areas of clinical and research expertise. We are also exceedingly proud of our residents who, in addition to receiving outstanding clinical training, have an enviable record of research accomplishments. Our alumni, who have attained national and international leadership positions, reflect well on our department, and are also a great source of pride. We are ably assisted by an outstanding group of administrative, clinical and research staff who are valued members of our team.
We welcome your comments and inquiries. If you desire further information after visiting our website, please contact me at:
Maria Jose Cervantes Mendez, DDS MS FAAPD
7703 Floyd Curl Dr., MSC 7888
San Antonio, TX 78229-3900
210-567-3535