Predoctoral Orthodontics
The undergraduate orthodontics program at UT Health San Antonio is one of the most progressive predoctoral orthodontic training programs in the country. Emphasis is placed on the role of orthodontics in the practice of general dentistry; this includes limited tooth movement to facilitate restorative procedures and periodontal treatment, as well as esthetic realignment of teeth.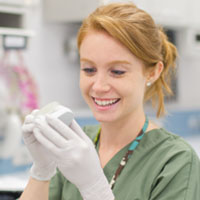 In the fall semester of the sophomore year, students begin their orthodontic training by participating in a comprehensive growth and development course. In the spring semester, a comprehensive lecture course introduces students to the classification of malocclusion, the epidemiology of occlusal disharmonies, orthodontic analyses for diagnosing and planning of limited orthodontic treatment, and the biomechanics and biology of orthodontic tooth movement. Students have the option of participating in an elective pre-clinical orthodontic technique course which prepares them to perform limited orthodontic procedures in their junior and senior years. Successful completion of the pre-clinical course also qualifies the student to become certified in limited invisible orthodontic appliance techniques.
In the fall of the junior year, students attend a dynamic lecture course which builds on the knowledge acquired in the previous year. The course includes small group problem-based case analysis seminars. Great emphasis is placed on orthodontic diagnosis and treatment planning for both children and adults. Students learns to analyze the appropriate orthodontic diagnostic records and translate the data into problem lists. This will enable the student to determine the degree of the dentofacial disharmony, the timing for the orthodontic intervention, and whether a general dentist or an orthodontist should provide the treatment. Comprehensive orthodontic, interdisciplinary dentistry, and surgical orthodontics are introduced to indicate the scope of the orthodontic specialty and the key role played by the general practitioner when referring his or her patients.
Complementing the basic orthodontic core curriculum is an exciting "cutting edge" literature review course and two graduate clinic rotations which are offered as electives to those junior and senior students who are considering specializing in orthodontics.