Pediatric Dentistry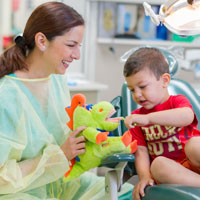 We are a multicultural group of individuals representing many countries from all continents. We are a fun, determined team, fully committed to the optimal oral and craniofacial health of a child. This commitment is underscored by our pursuit of excellence in basic, behavioral, transitional, and clinical research in the provision of exemplary clinical care.
Our philosophy of care encompasses the early identification and prevention of oral and craniofacial disease in children, especially those in high-risk groups. Our situation in San Antonio, despite being one of the most pleasant cities to live, represents an enormous challenge, as we are located in an area of significant oral and general health disparity.
We are particularly proud of our faculty who have achieved national and international acclaim in their respective areas of clinical and research expertise. We are also exceedingly proud of our residents who, in addition to outstanding clinical training, have an enviable record of research accomplishments at the national level. Our alumni, who have attained national and international leadership positions, reflect well on our department, and are also a great source of pride. We are ably assisted by an outstanding group of administrative, clinical, and research staff who are valued members of our team.