Postdoctoral Pediatric Dentistry
The program in pediatric dentistry is designed to offer the advanced students a balanced curriculum in both didactic and clinical areas. Particular emphasis is placed on hospital dentistry, conscious sedation, interceptive orthodontics, and special patient care. The program is administered by the Department of Pediatric Dentistry of the School of Dentistry and is approved and accredited by the Council of Dental Education of the American Dental Association. Upon successful completion of all requirements, the student is awarded a certificate in Pediatric Dentistry and meets the eligibility requirements for the American Board of Pediatric Dentistry.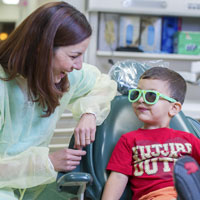 The program offers a balanced curriculum of clinical and didactic material with the overall goal being to provide a broad base of knowledge in the specialty of Pediatric Dentistry. Considerable program time is devoted to clinical experience in routine restorative dentistry, behavior management, interceptive orthodontics, and dental treatment of the medically compromised. Hospital rotations of general anesthesia and pediatric medicine are also part of the curriculum. Significant time is spent covering didactic material related to pediatric dentistry. In addition, a research project and teaching responsibilities are required components of the program.