Predoctoral Pediatric Dentistry
Our predoctoral pediatric dentistry program is designed to train our undergraduate students to meet the oral health needs of the pediatric patient. The didactic component begins with the process of evaluation and diagnosis of the pediatric patient. The course entails a variety of treatment considerations, with special emphasis on how and why therapies differ when caring for an infant, child, and adolescent patient.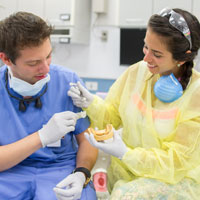 Starting in the sophomore year, students have the opportunity to visit and assist in the clinic. The clinical rotations are throughout the junior and senior years. As part of our clinical rotations, students also spend time in small group case discussions. Emphasis is based on clinical practice, using different behavior management techniques, incorporating prevention modalities, and different treatment modalities.
Our predoctoral students also have the opportunity to participate in our summer externship program.