Graduate Endodontics
The Advanced Education Program in Endodontics is a 24-month certificate program of intensive study, research, and clinical activity designed to meet the formal requirements for eligibility to take the certifying examination of the American Board of Endodontics. Prior to the student's graduation, research results are expected to be formally written in a publishable format and submitted for publication in a refereed scientific journal and a variety of 5 clinical cases must be submitted in the American Board of Endodontics format.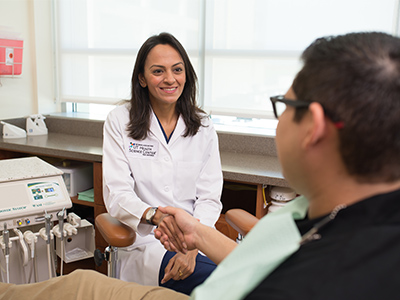 Students interested in obtaining a Master of Science degree have the opportunity to apply for the optional 36-month program. The Master's degree is granted by the Graduate School of Biomedical Sciences after completion of all requirements for the certificate program, completion of an original research project, and the successful defense of a thesis based on the student's research.
The goal of the program is to develop well-trained clinicians capable of providing biologically based endodontic care and potential faculty members with a comprehensive background of clinical experience, current basic science knowledge relevant to endodontics, and an understanding of research methodology. Clinical experiences include the opportunity to provide diagnostic services, nonsurgical endodontic treatment and retreatment, and surgical endodontic treatment.
Upon completion of an introductory course in advanced endodontics utilizing various clinical techniques at the beginning of the first year, students begin to concentrate on perfecting chosen techniques to perform endodontic therapy in clinical practice. These experiences provide the opportunity to participate in the physical evaluation of patients and to learn hospital protocol and operating room techniques. The postgraduate clinic is a modern facility designed to expose the student to state-of-the-art equipment including digital radiography. Each student has his/her own treatment room with the individual radiographic capability and a Zeiss surgical operating microscope.