Endodontic Program Resident: Julie Anderson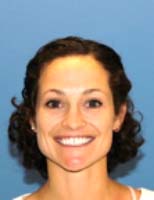 Julie was born in Lubbock, Texas on December 8, 1986 to Lt Anthony and Nancy Anderson, both of Pennsylvania.  After spending most of her childhood in Florence, Kentucky, Julie graduated from Notre Dame Academy. 
She played soccer for Transylvania University in Lexington, Kentucky and graduated summa cum laude in 2009 with a Bachelor of Arts in Business Administration. 
Before entering dental school at the University of Kentucky in 2009, she worked as a women's soccer coach and tended bar at the local German restaurant.  Upon earning her DMD, Julie entered the United States Air Force and completed an AEGD program at Langley AFB in the coastal Virginia area.
Following residency, Julie married Dr. Ross Oates of Louisville, KY.  She then spent a combined three years practicing general dentistry at Hanscom Air Force Base, Massachusetts, and Dyess Air Force Base, Texas, from which she deployed for a six-month tour to Ali Al Salem Air Base, Kuwait in the summer of 2016. In her spare time, Julie enjoys running, live music, reading historical novels and simply spending time outdoors with her family.