Cindy Huynh, D.D.S.
Class of 2024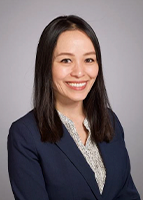 Dr. Cindy Huynh was born and raised in San Jose, California. She earned her Bachelor of Science in Molecular and Cell Biology from the University of California, Berkeley, and her D.D.S. from the University of California, San Francisco. After finishing dental school in 2015, she worked as a general dentist in various practice settings. She spent 3 years in Salem, Oregon serving the working class and rural communities of Central and Southern Oregon, and 4 years in private practice in Southern California. She always had a passion for endodontics. Having been working as a general dentist for many years, she knew it was time to pursue her dreams of becoming an endodontist.
Dr. Huynh travels for the food, not for sightseeing. She loves exploring the food scene wherever she visits and resides. She loves spending her free time with her 14-month-old daughter and snuggling up with her labradoodle, Bernie. She takes on DIY projects and dabbles in different genres of arts and crafts.
Dr. Huynh is grateful to have this opportunity to learn from renowned faculty in the endodontic field, and to explore what San Antonio has to offer.