Gautam Shirodkar, B.D.S., M.S.
Class of 2022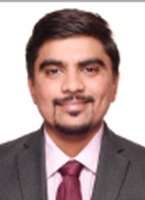 Gautam Shirodkar, BDS MS was born and raised in the city of Mumbai, India. He completed his dental school from the Maharashtra University of Health Sciences in 2015. After graduating, he worked in private practice and at the Indian Dental Association for about 2 years. He came to the United States in 2017 and started his Advanced Clinical Training program in Endodontics at the University of California Los Angeles (UCLA) for a year following which he pursued his Master of Science in Oral Biology. He worked in the laboratory of Dr. Mo Kang at the UCLA School of Dentistry where his research was focused on Regenerative Endodontics and graduated in March 2020.
He is passionate about clinical endodontics and its research aspect which has led him to seek his specialty training at UT Health San Antonio. His goal is to be proficient clinically and contribute to the ongoing research in regenerative endodontics.
Dr. Shirodkar is also interested in photography, likes travelling and exploring national parks and places of historic importance. He is also a foodie and is looking for some best Taco and Margarita places in San Antonio. He also enjoys following Tennis, Soccer and Cricket leagues.