Pardis Soleimanzadeh Azar, D.D.S.
Class of 2022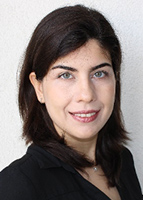 Dr. Pardis Azar was born and raised in Tehran, Iran. She ranked among the first 100 among more than 500,000 students in Iran's university entrance exam and started dental school at Tehran University of Medical Sciences. After graduation in 2012, she worked in private practice in the north of Iran for two years and received awards for patient care and preventive pediatric dentistry in rural areas. After going back home to Tehran, Dr. Azar worked in private practice for two years as an associate dentist, performing varieties of dental procedures, and developed her interest in Endodontics. In 2016, She moved to College Station, Texas, with her husband. Dr. Azar finished an internship in the Endodontics department of UTHSCSA from 2019 to 2020 before commencing her residency. She has published several peer-reviewed journal papers and conference proceedings in Periodontics and Endodontics.  
Dr. Azar is very passionate about conducting scientific research. She enjoys yoga every morning before starting the clinic. In leisure time, she spends time with her husband and cat, going hiking, cooking and baking, and painting.