Alena Fear, D.D.S.
Class of 2021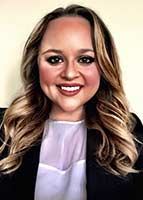 Dr. Alena Fear was born and raised in Ann Arbor, MI. She attended Central Michigan University, graduating magna cum laude in 2011 with a BS in Biomedical Sciences.
Dr. Fear then attended University of Michigan School of Dentistry in Ann Arbor, receiving her DDS and graduating second in her class in 2015. She was inducted into the Omicron Kappa Upsilon Honor Dental Society for excellence in academics.
Dr. Fear began the residency program in Oral and Maxillofacial Surgery at UT Health San Antonio in June of 2015, starting with medical school and is expected to receive her MD in 2018. Her interest in Oral and Maxillofacial Surgery comes from many family influences, including her father who is an oral and maxillofacial surgeon and her mother who is a general dentist.
Her interests outside of academics include, cooking, travel, exercise, participating in half marathons with her older sister, and all Detroit sports teams.