Amy McFarling, D.D.S., M.D.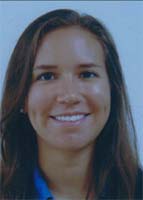 Dr. Amy McFarling was born in Austin, Texas and raised in Waco, Texas. She attended The University of Texas at Austin, where she earned a bachelor of arts in mathematics and participated in the Longhorn Marching Band throughout her college tenure.
Dr. McFarling then decided to relocate to the West Coast to attend the University of California at San Francisco School of Dentistry, receiving her D.D.S in June of 2017.
She quickly and joyfully moved back to Texas to start her Oral and Maxillofacial Surgery residency at UT Health San Antonio the following week.  She is expected to receive her M.D. in 2020.
Her interest in oral surgery is largely attributed to her father, a CRNA, who worked closely with oral surgeons in the operating room and introduced her to several of these surgeons during her high school years.
Dr. McFarling's other interests include running 10K's and half marathons, whale watching, cooking, playing Settlers of Catan with her family, and going on excursions with her dog, Molly.