David Szalay, D.D.S., M.D.
Class of 2020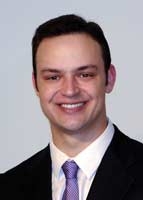 Dr. David Szalay was born in Budapest, Hungary and was raised in Austin, TX.  He attended The University of Texas at Austin and graduated cum laude with a BS in Biology in 2010. During college, he also worked as a dental assistant, which solidified his interest in the field of dentistry. Dr. Szalay went on to attend Texas A&M University Baylor College of Dentistry where he received his DDS in 2014 and was ranked in the top 10 of his class.
While in dental school, Dr. Szalay also attended seven different externships around the country where he gained additional experience in Oral & Maxillofacial Surgery and had the privilege of working with many experts in the field. Upon graduation, he was awarded the Dental Implant Student Award from the American Association of Oral and Maxillofacial Surgeons.
Dr. Szalay began his OMS Residency at UT Health San Antonio School of Dentistry in July of 2014 and is expected to receive his MD in 2017.  His interest in OMS comes from the specialties unique blend of dentistry and medicine, the challenging scope of procedures, and the difference it can make in peoples lives.  Outside of OMS, Dr. Szalay enjoys spending time with his wife Jillian, family, and friends. His other interests include exercise, golf, and martial arts.