Denae Rushing, D.D.S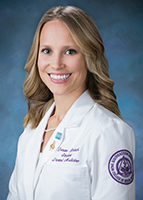 Dr. Denae Rushing was born in Hondo, TX, a small town approximately fifty miles west of San Antonio. She began her undergraduate studies at The University of Texas at San Antonio, where she met her husband. Together they moved to Miami FL; where he began Podiatric Medical School and she finished her undergraduate studies graduating Cum Laude with a Bachelor's degree in Chemistry and a minor in Physics. Dr. Rushing then attended Nova Southeastern University College of Dental Medicine in Davie, FL. During her time in dental school, Dr. Rushing conducted research in the field of Oral and Maxillofacial Surgery that was accepted for Oral presentation at the 100th AAOMS convention and went on to achieve publication in the Journal of Oral and Maxillofacial Surgery. Dr. Rushing was inducted into the Honor Society Phi Kappa Phi, as well as Omicron Kappa Upsilon for her outstanding academic achievements.  She graduated NSU CDM in 2019 and was awarded the Horace-Wells Award from the American Dental Society in Anesthesia. 
After graduation, Dr. Rushing and her husband joyfully returned to San Antonio, TX to begin her six-year residency in Oral and Maxillofacial Surgery at the University of Texas Health, and is expected to be awarded her Medical Degree in 2022. 
In their free time, Dr. Rushing and her husband enjoy traveling, hiking, golfing and spending time with their cat Bubbles.