Domenic Digioia, D.M.D.
Class of 2018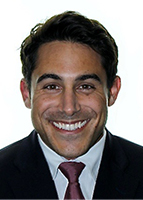 Domenic was born and raised in St. Petersburg Fl. For 29 years Domenicnever lived outside of Florida, and only recently can Domenic call Texas his home.
Domenic attended undergraduate college at the University of Central Florida where Domenic received his BS in Biology and Molecular Biology in 2013. After graduating, Domenic spent 1 year teaching biology and chemistry at St. Petersburg College before deciding Domenic wanted to pursue dentistry. This pursuit was inspired by moms general dentist who allowed me 1000s of hours of observation and to whom Domenic will always be grateful for. 
Domenicattended Nova Southeastern Dental School where Domenic attained his DMD in 2018. While at Nova Domenicalways aimed to learn as much as possible and in turn graduated # 1 in his class and received awards and recognition for his academic achievements. In addition, Domeniccontinued his enjoyment for teaching, serving as a tutor for all biomedical courses, creating different study clubs and helping students with head and neck cadaver dissections. 
After graduating dental school, Domenic initially attended the University of Florida for Periodontics in 2018. Shortly after starting, Domenicdecided this was not the right fit for me and left the program to start working as an associate in private practice in his hometown. Fortunately, while at UF, Domenicwas able to gain adequate exposure to the field of OMFS which in turn propelled me towards pursuing this diverse and impressive field. And though Periodontics was not the right path for me, while at UF Domenicwas lucky enough to meet the most beautiful and kind hearted girl he'd ever known, and crazy enough, she's now his fiancee. Once she completes her pediatric dental residency at UF in July of 2020, she will be moving back to San Antonio where we plan to live and settle down. 
Domenic is currently a non-categorical intern at Texas A&M Oral and Maxillofacial Surgery which Domenic began in 2019. This opportunity has not only increased his exposure to the speciality, but has continued to reinforce how much Domenic truly enjoy and love this field. 
Outside of OMFS, things Domenic enjoys doing are spending time with loved ones and friends, running and exercising, tennis, fishing, playing guitar, reading, surfing and hiking when the right opportunity presents itself.