Externships
Oral and Maxillofacial Surgery externships are two- to eight-week rotations for dental students on the UT Health San Antonio Oral and Maxillofacial Surgery Service.
OMS externships are primarily intended for those dental students who are seriously considering specialization in Oral and Maxillofacial Surgery.
Externs are scheduled with OMS residents in OMS clinics, operating rooms, academic sessions, and also take on call duties with OMS Residents at the University Hospital.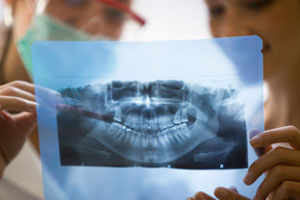 The UT Health San Antonio OMS externship provides dental students an opportunity to:
Develop a more complete understanding of the full scope of Oral and Maxillofacial Surgery
Evaluate the structure of OMS training at the UT Health San Antonio and understand the academic and clinical duties of OMS residents and the functions of all members of the OMS faculty-resident-supporting staff team
Observe the spectrum of services and cases treated in the OMS program
Acquire more experience in outpatient surgical experience in patient assessment, minor trauma surgery and dentoalveolar surgery, involvement in major surgery is generally limited to 1st or 2nd assistant roles
Requirements
Completion of at least two years of dental school in the U.S. or Canada, and completion of the School of Dentistry's basic OMS course
Interest in surgery and medicine
Class rank: top 10% of class
Dental school GPA > 3.0
Willingness to work hard
Dedication to study and to patient care
Honesty
U.S. Citizenship
Externship Schedules
In order to give all dental students an equal opportunity to participate, our Oral and Maxillofacial externship is a year-round program. 
In order to avoid diluting the externship experience, only two externs are accepted at any one time
The recommended length of the externship rotation is four weeks. Periods of as little as two weeks will be considered on a case-by-case basis
The best time to serve in externships is in the summer following the junior year of dental school since minimal clinical skills have been acquired by that time. However, the summer after sophomore year may be considered for outstanding students
Applications are accepted January through December each year
The academic coordinator will work with externs to find alternate dates if necessary
We are not able to provide malpractice insurance for externs. If accepted, You must show proof of malpractice insurance prior to your arrival for the externship. The request to fill an externship position, once accepted, represents a serious commitment. If an applicant withdraws without sufficient notice to the UT Health San Antonio Program Director, he or she is essentially robbing other applicants of an externship opportunity.
Apply
Dental students interested in this experience should download, complete, and submit by fax or mail the Extern Application to:
Oral and Maxillofacial Surgery
Attn: Lynn Mendoza
Center for Oral Health Care & Research
8210 Floyd Curl Drive, Mail Code 8124
San Antonio, TX 78229
Email: mendozalb@uthscsa.edu
Phone: 210-450-3134
Fax: 210-450-2110
Additional information on OMS externships or the application process may be obtained through the Administrative Coordinator of the OMS program, Ms. Lynn Mendoza, at 210-450-3134 or via email at mendozalb@uthscsa.edu.