Jared Hope, D.D.S.
Class of 2026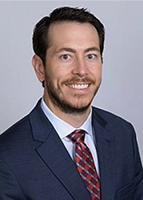 Dr. Jared Hope was born in San Antonio, Texas and grew up in Lubbock, Texas. He attended Texas Tech University for his undergraduate education, graduating Cum Laude in 2012 with a Bachelor of Arts in Biology and a minor in Chemistry. While at Texas Tech, Jared also participated on the Texas Tech men's tennis team. After graduation, he earned his emergency medical technician license and worked in EMS from 2013-14.
Dr. Hope then attended the University of North Texas Health Science Center in Fort Worth, where he earned his master's degree in Biomedical Sciences in 2016. After receiving his master's degree, Dr. Hope attended UT Health San Antonio School of Dentistry, earning his Doctor of Dental Surgery degree in May 2020, graduating with highest honors, and ranked in the top 10% of his class.
Dr. Hope will begin his Oral & Maxillofacial Surgery residency at UT Health San Antonio in 2020 where he is expected to receive his M.D. in 2023 and complete his residency in 2026.
His interests in Oral and Maxillofacial Surgery stem from the combination of both medicine and dentistry that OMFS entails, the diverse and challenging scope, and the satisfaction of truly making a difference in people's lives.
Outside of OMFS, he enjoys spending time with his wife, Kelsy, and his son Corbin. His other interests include working out, playing tennis, and watching sports.