Jason Jones, D.D.S.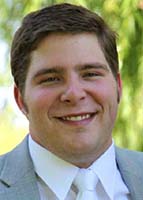 Dr. Jason Jones was born and raised in Odessa, Texas. He attended the University of Texas-Permian Basin where he graduated from the honors program magna cum laude in 2011, earning his bachelor of science in biology with a minor in chemistry.
Dr. Jones then attended the UT Health San Antonio Dental School where he earned his D.D.S. with distinction in research honors in 2016.
He was inducted into the Omicron Kappa Upsilon Dental Honor Society for his commitment to excellence in dental school and was awarded the Southwest Society of Oral and Maxillofacial Surgeons Dental Student Award.
He began his residency in the Department of Oral and Maxillofacial Surgery at UT Health San Antonio, where he is expected to earn his M.D. in 2019 and complete his residency in 2022.
His interest in oral and maxillofacial surgery began even before dental school and continues to grow due to the specific niche with which the practice of oral and maxillofacial surgery fills, combining critical and foundational aspects of both dentistry and medicine.
His interests beyond oral and maxillofacial surgery include spending time with his wife, Izbel, and his two sons, Daniel and David, as well as attending and volunteering at church, sports and traveling.