Mary Kate Spinella, D.M.D., M.D.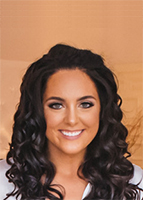 Dr. Mary Katherine (MK) Spinella was born in New York and raised in New Jersey. She graduated from the University of Pennsylvania magna cum laude with a degree in the Biological Basis of Behavior. After working for a year after graduation as a scribe in an emergency department and as a dental assistant for an oral surgeon in NJ, Dr. Marten Ladman, she attended dental school at the Harvard School of Dental Medicine where she earned her doctor of dental medicine (DMD) degree and pursued research in public health. Immediately following graduation from Harvard, Dr. Spinella began her residency in Oral and Maxillofacial Surgery at UT Health San Antonio and is expected to receive her MD in 2022. 
She enjoys spending time with her husband, Matthew, and their dog Guinness. Her interests include spending time with her parents and three younger sisters, hiking, biking, and swimming.