Najy Zarroug, D.D.S., M.D.
Class of 2018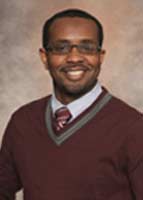 Dr. Zarroug was born in Los Angeles, California form family of Sudanese origin. After his father completed his post-graduate education, he moved back to Africa, where he earned a bachelor in dental surgery and completed a one year residency in general dentistry. Dr. Zarroug moved back to the U.S 2006 and was admitted to New York University to graduate with a diploma in clinical research and D.D.S with honor in dental anatomy and an honor in Oral and maxillofacial surgery in 2011. He did a one year internship in Oral and Maxillofacial Surgery (OMS) at UT Health San Antonio School of Dentistry and is now a part of their residency program while attending the Joe R. & Teresa Lozano Long School of Medicine at UT Health San Antonio.
Najy and his wife Nuha, have a son, Yousif, born in December of 2012. His interests outside of Oral and Maxillofacial Surgery include sports, reading, and spending time with his family.
The challenges in managing OMS patients motivated Dr Zarroug to pursue the specialty. His ultimate goal, once trained and board certified is to devote some time serving communities in need.