Patrick Scholl, D.D.S.
Class of 2026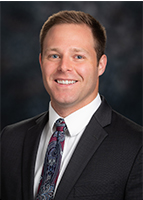 Dr. Patrick Scholl was born and raised in Austin, Texas where his family currently resides. He attended St. Edward's University, where he earned his Bachelor of Arts in Biology in 2015. During college, he also enjoyed being a pitcher for the St. Edward's baseball team. 
Upon graduation, Patrick moved to Miami, Florida to earn his Master's in Biomedical Sciences at Barry University. He then moved back to Texas to attend The University of Texas School of Dentistry at Houston. Dr. Scholl earned his Doctor of Dental Surgery degree in May 2020.
Dr. Scholl will begin his Oral and Maxillofacial Surgery residency at UT Health San Antonio in 2020 where he is expected to receive his M.D. in 2023 and complete his residency in 2026. His interest in oral surgery comes from the impact it can have on people's lives and the challenging scope.
Patrick enjoys spending time with his family and friends, as well as playing sports and enjoying the outdoors.