Dental Hygiene Bachelor's Program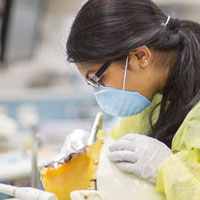 The Dental Hygiene division offers a Bachelor of Science Degree Program that prepares graduates for licensure and entry into the profession. The program consists of two academic years of upper-level course ­work in dental hygiene theory, laboratory, and clinical skills. Applicants must complete specific general education prerequisite courses before entering the dental hygiene major. The Bachelor's program requires students to successfully complete a total of 123 semester hours to earn the degree (includes Texas Core, prerequisites, and dental hygiene major courses). Upon completion of the program, graduates are eligible to take dental hygiene licensing examinations for eligibility to practice.
Learn more about the Dental Hygiene Bachelor's Program
Licensure
Dental Hygiene is a licensed profession requiring successful completion of the National Board Dental Hygiene Examination, the Western Regional Examining Board (WREB), and a state Jurisprudence Examination.
The National Board Dental Hygiene Examination, taken during the spring semester of the second year, is a comprehensive written examination covering dental and dental hygiene sciences, theoretical aspects of patient care, and principles of dental hygiene therapy. The WREB is offered immediately before graduation and requires a practical demonstration of clinical competence. A Texas license to practice dental hygiene is granted upon successful completion of the National Board Dental Hygiene Examination, WREB, the Texas Jurisprudence Exam, and payment of appropriate fees to the State Board of Dental Examiners.
Accreditation
The Bachelor of Science in Dental Hygiene program is accredited by the American Dental Association (ADA) Commission on Dental Accreditation (CODA), located at 211 E. Chicago Avenue, Chicago, Illinois 60611. For more information, call (312) 440-2719 or visit the CODA website.
Program Director
Jo Ann Diaz Jordan, M.A., R.D.H.