Dental Hygiene Bachelor's Completion Program
This program is intended only for students who are already licensed dental hygienists.
The faculty and staff at UT Health San Antonio are dedicated to health-care education. Our energy and resources go toward supporting an educational environment that attracts and nurtures the very best. The University has state-of-the-art equipment and faculty who utilize these resources in our students' education.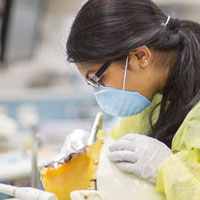 If you are a licensed dental hygienist and would like to continue your education towards a baccalaureate degree, UT Health San Antonio has a program that can be tailored to you. Today's dental hygienists are employed in a variety of health care environments. According to the U.S. Bureau of Labor Statistics, employment in the field is expected to grow faster than that of many other professions in the coming years. When you receive your bachelor's degree, you will be in a position to advance in your career or seek a challenging new position within a wide range of options.
Opportunities for graduates include dental management, teaching, marketing, sales and research, and can include positions with:
Colleges and Universities
Hospitals with dental programs
Public health agencies
Insurance companies
Pharmaceutical companies
Corporations
Learn more about the Dental Hygiene Bachelor's Completion Program