Postdoctoral Periodontics
The Periodontics Department conducts a three-year, advanced education program in periodontics. The residency comprises didactic, clinical, and research experiences leading to a certificate in periodontics. In addition, during the first semester of the residency, students apply to, and are enrolled in, the Graduate School of Biomedical Sciences, through which residents engage in research activities leading to a Master of Science degree awarded by the Graduate School of Biomedical Sciences. All aspects of periodontics are taught in the residency program, including biomedical sciences, patient evaluation, diagnosis of periodontal and other oral diseases, interdisciplinary treatment planning, non-surgical and surgical periodontal treatment, and dental implant therapy.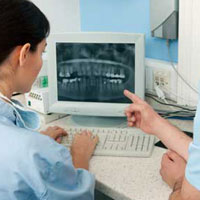 Knowledge of the evidence based upon which the specialty rests is emphasized heavily. Residents gain wide experience in all facets of Periodontology. While the primary goal of the residency is to provide the best clinical periodontal training available in the country, research and didactic training are also major components of the program.
The Postdoctoral Periodontics Program actively recruits applicants who will strive for both clinical and academic excellence. The program provides a vigorous and continuous challenge for three years. Residents must be able to function with others as a team, striving not only for personal excellence, but also for cohesion and openness to an intellectual enriching environment.
The mission of the Postdoctoral Periodontics Program is to produce the best clinical periodontists in the nation, clinicians who will provide the highest quality care to their patients, who will support their families and communities, who will add to the body of knowledge in periodontology, and who will give back to the profession of dentistry throughout their careers.
Primary objectives of the program include learning all facets of periodontics and dental implant therapy, gaining comprehensive knowledge of the evidence, performing research which adds substantially to the evidence base, and teaching other health professionals in various aspects of the specialty. A major goal of the residency is to prepare each student to successfully challenge the qualifying and oral certification examination of The American Board of Periodontology, becoming Diplomates of the Board.
Learn more about the Postdoctoral Periodontics Program
Accreditation
The Postdoctoral Periodontics Program at UT Health Science Center San Antonio is accredited by the American Dental Association (ADA) Commission on Dental Accreditation (CODA), located at 211 E. Chicago Avenue, Chicago, Illinois 60611. For more information, call (312) 440-2719 or visit the CODA website.