Advancing the Science of Cancer in Latinos Agenda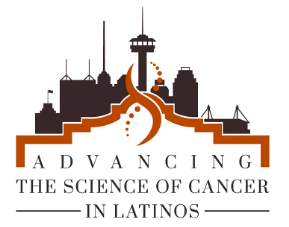 February 23 - 25, 2022 Tentative Skeleton Agenda
Wednesday February 23, 2022
Time
Event
7:00AM -
8:00AM
Breakfast/Registration
8:00AM -
9:00AM
Navarro
Welcome
Amelie G. Ramirez, Edward J. Trapido
9:00AM -
9:45AM

Navarro

Keynote Potential Topic: Structural Racism & Health Inequities
Our keynote speaker will focus on systemic inequities, structural racism, and advancing health equity for Latinos.
9:45AM -
10:00AM
Break
10:00AM -
12:00PM
Villa/Zapata

Breakout Panel A: Social JusticE Implications on Cancer
This session will focus on social justice issues plaguing vulnerable populations and their implications on the cancer care contiuum.

10:00AM -
12:00PM
Hidalgo

Breakout Panel B: A Public Health Crisis: Obesity and Cancer
This session will focus on research aimed at modifying behavioral risks to prevent cancer.

12:00PM -
1:00PM
Navarro
Lunch
1:00PM -
1:30PM
Navarro
Lunch Speaker: Cancer Epidemiology in Hispanic Populations
1:30PM -
1:45PM
Break
1:45PM -
3:15PM
Navarro
Plenary Session 1: COVID-19 Implications on Cancer Care
This session will focus on the bigger picture concerning COVID-19, the unknown, and its implications on cancer care.
3:15PM -
3:30PM
Break
3:30PM -
4:30PM
Villa/Zapata

Breakout Panel C: Addressing Disparities in Cancer Screenings
This session will address disparities concerning HPV vaccination as well as preventative screenings for colon and cervical cancer.

3:30PM -
4:30PM
Hidalgo

Breakout Panel D: What's New? Advancement & Brweakthroughs in Breast Cancer
This session will focus on advancements and breakthroughs in breast cancer from an oncologist, researcher, and pharmaceutical discovery perspective.

4:30PM -
6:30PM
Navarro
Rapid-Fire Session
This session will showcase early investigators via five-minute rapid-fire presentation.
Thursday February 24, 2022
Time
Event
7:30AM -
8:30AM
Madero
Breakfast
8:30AM -
9:30AM
Navarro
Plenary Session 2: The State of Latino Cancer Policy and Advocacy
This session will focus on advancing Latino cancer care and treatment equity through healthcare policy and advocacy.
9:30AM -
10:00AM
Navarro

Plenary Session 3: The Pipeline of Underrepresented Minorities in Cancer Research
This session will focus on pipeline programs that create diverse cancer researchers and medical professionals as well as overcoming barriers.

10:30AM -
10:45AM

Break

10:45AM -
12:15PM
Villa/Zapata

Breakout Panel E: Challenges and Opportunities in Cancer Therapy & Clinical Trials
This session will focus on challenges, opportunities, and new breakthroughs in cancer therapy and clinical trials.

10:45AM -
12:15PM
Hidalgo

Breakout Panel F: The Unequal Burden of Lung Cancer
This session will focus on a broad range of lung cancer topics including screening, diagnosis, and interventions.

12:15PM -
1:00PM
Navarro
Lunch

1:00PM -
2:00PM
Navarro

Lunch Panel: Patients Advocating for Patients: Equity in Cancer Care
This session will focus on the struggle of Latinos to obtain proper cancer treatment and the importance of patient advocates involvement in cancer research to effectively address current knowledge gaps and future research and advocacy.

2:00PM -
3:30PM
Navarro

Plenary Session 4: The Future of Cancer Research in Latin America
This session will take an international look at new and innovative Latino cancer research and explore how these studies can transcend care across North and South America and worldwide.
3:30PM -
3:45PM
Break
3:45PM -
5:00PM
Villa/Zapata

Breakout Panel G: Hot Topics in Gastointestinal Oncology
This session will focus on hot topics concerning pancreatic, liver, stomach, and gallbladder cancer.

3:45PM -
5:00PM
Hidalgo

Breakout Panel H: Psychosocial Support and Care throughout Cancer Continuum
This session will focus on psychosocial support and care throughout the cancer continuum including end of life care, mental health counseling, spiritual support, group support, and many other such services.

5:00PM -
5:30PM
Break
5:30PM -
7:00PM
Navarro
Poster Session and Reception
Friday February 25, 2022
Time
Event
7:30AM -
8:30AM
Breakfast
8:30AM -
10:00AM
Navarro
Plenary 3: The Vision of NIH
This session will focus on the vision of the National Institute of Health's subagencies including the National Cancer Institute, the National Institute on Minority Health and Health Disparities, and the National Institute of Child Health and Human Development.
10:00AM -
11:30AM
Navarro

Session 3: Pharmaceutical Role in Cancer Research Innovation
This session will focus on new innovations within the pharmaceutical community followed by a town hall.

11:30AM
Closing Remarks