14th Point-of-Care Ultrasound Workshop
June 3-4, 2022 in Austin, Texas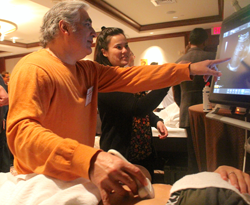 "The 2019 Point-of-care Ultrasound Workshop was the most effective post-graduate clinical course I have taken. The speakers were terrific, experts in their fields, and engaging. The hands-on ultrasound experience while being mentored by outstanding faculty in real-time was very effective. The practical lessons learned both in didactic and actual ultrasound imaging will change my daily practice and make me a better clinician and transplant surgeon. A game-changer." - Francisco G. Cigarroa, MD 2019 Course Participant & Former Chancellor of the University of Texas System
Workshop Overview
Point-of-Care Ultrasound Workshop is a unique hands-on experience to teach providers bedside applications of portable ultrasound. This workshop is offered in two formats: a traditional, in-person course or as a virtual, tele-ultrasound course.
Traditional, In-person Course
Our traditional, in-person course combines focused didactics and hands-on scanning sessions led by expert faculty from around the country. During the hands-on scanning sessions, course participants practice capturing specific ultrasound views of the heart, lungs, abdomen, and legs on live models. The hands-on sessions are complemented by lectures to improve the participants' knowledge of the indications, technical skills, and clinical integration of bedside ultrasound. The curriculum has been fine-tuned over years to maximize learning.
Virtual, Tele-ultrasound Course
Due to the COVID-19 pandemic, our traditional 2-day in-person course was converted to a virtual 4-week workshop with hands-on scanning using tele-ultrasound software. During the virtual hands-on sessions, course participants practice capturing ultrasound views on live models and experienced faculty remotely guide course participants using teleultrasound software. Sample videos of virtual hands-on scanning can be viewed here (video 1, video 2). Feedback from both course participants and faculty about the virtual, tele-ultrasound course format have been overwhelmingly positive (see Review tab).
If you would like to be added to our waiting list and contacted about future courses, please complete the Course Participant Interest Form.
Target Audience
This workshop is designed for clinicians seeking training in portable ultrasound.
Internal Medicine
Family Medicine
Critical Care Medicine
Emergency Medicine
Surgery
Anesthesiology
Nurse Practitioners
Physician Assistants
Why is this workshop unique?
Nationally recognized expert faculty from leading academic institutions
Low course participant to faculty ratio (3:1 or 2:1 for in-person course; 2:1 or 1:1 for tele-ultrasound course)
Curriculum designed to teach the highest-yield point-of-care ultrasound applications for clinicians
No travel is required for the virtual tele-ultrasound workshop
Maximum hands-on practice scanning with live models
What can you expect to learn?
Fundamental principles of ultrasound technology and basic operation of a portable ultrasound machine
Techniques to perform focused diagnostic ultrasound examinations at the bedside, including imaging of the heart, lungs, abdomen, and lower extremity veins
Techniques to guide the performance of bedside procedures with ultrasound guidance, including central venous catheterization, thoracentesis, paracentesis, and lumbar puncture
Indications, basic protocols, and limitations of bedside ultrasound imaging
Practice interpretation of normal and abnormal ultrasound images
Mentored scanning with experienced faculty to learn hands-on imaging techniques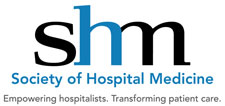 ​
This course satisfies one of the program requirements for the SHM Point-of-care Ultrasound Certificate of Completion.