Elements Wellness Program
Undergraduate Medical Education
Doctor of Medicine (M.D.)
​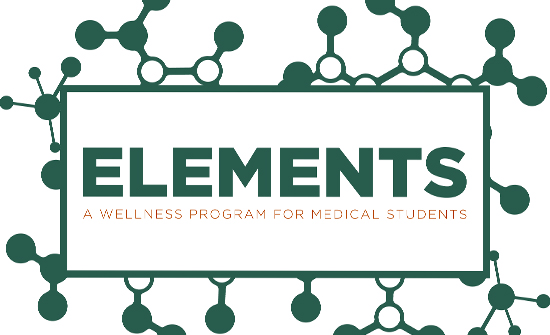 Mission
To foster a positive learning environment inside and outside the academic setting and to encourage self-care, resilience, and holistic health by providing tools to address all dimensions of wellness.
Vision
To inspire every medical student to take an active role in forming and maintaining a happy, rewarding, and healthy lifestyle as a medical professional.
Course Summary
Elements is a wellness program offered through the Office of Undergraduate Medical education to promote medical student wellness. By recognizing the many benefits of holistic health on their personal and professional life, students are empowered to embrace a healthy lifestyle in mind, body, and spirit.
Elements registration begins October 7, 2019
Course Components
Online fundamental modules
Online topics library modules
Wellness events and reflection
Assessment
Course Levels
Bronze: Eight fundamental modules + four wellness event reflections + quiz upon level completion
Silver: Bronze level completion + four topic modules + quiz upon module completion + two additional wellness event reflections
Gold: Silver level completion + four additional topic modules + quiz upon module completion + development of wellness project
Contact Information
Contact Derek Holbrook or Paulina Mazurek for more information on the Elements wellness program.
Office hours
Monday – Friday, 8:00 am to 5:00pm
Dolph Briscoe, Jr. Library, 5th floor
Map to Our Office
Drop-in Advising Hour
Normal campus operations – Every Wednesday from 1-2 pm in Howe Conference Room (Library)
During COVID closures – Every Wednesday from 1-2 pm in each class canvas page chat room