Student Success Staff
Assistant Dean for Academic Enhancement
Vanessa Bográn Meling, Ed.D.
Email: Meling@uthscsa.edu
Dr. Vanessa Meling currently serves as Assistant Dean for Academic Enhancement in the School of Nursing. She currently has oversight of all student services and academic success support under the Student Success Center. She is directly responsible for supervising the SSC team, the School of Nursing Scholarship awarding, and the Supplemental Instruction program.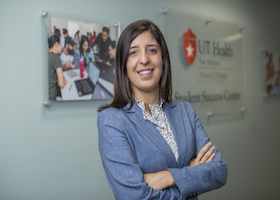 Associate Administrative Assistant
Rose Mary Padilla
Email: PadillaRM@uthscsa.edu
Rose Mary Padilla serves as an Administrative Assistant for the Student Success Center. She is responsible for managing the office, supporting the staff and their events, and making sure the office runs smoothly. Additionally, Rose Mary supports the SI leaders and tutors to make sure they are successful.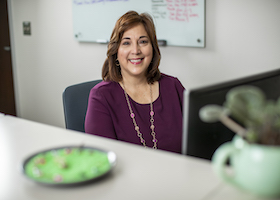 Senior Program Coordinator
Lauren Loper, M.Ed.
Email: LoperL@uthscsa.edu
Lauren Loper serves as the Senior Program Coordinator in the Student Success Center. She is responsible for the administration of all SON scholarships, manages our early alert retention system, assists in SSC assessment, evaluation, and research, and coordinates the online operations our academic enhancement programs. Most recently Lauren was selected by the Texas Association of College and University Student Personnel Administrators (TACUSPA) as a 2021 Thomas Moorman Fellow. She also received the 2020 TACUSPA Outstanding New Professional Award and was the recipient of the 2020 UT Health San Antonio Mr. Rudy Gomez Staff Excellence Award. Prior this role she served in the center as an Academic Success Coach and Writing Coordinator.