CTRC Director's Update for June
It's a treat to write the first of my updates which will periodically be added to our new website. I hope that you find our new web presence to be more informative, useful and easy-to-navigate.
It is always a remarkable time at the CTRC:  new discoveries, new faculty and lives changed in our clinics. Right now, several colleagues of ours are possibly on the cusp of one of the most important advances at the CTRC.  For more than five years, the team of Drs. Andy Bao, Beth Goins and Bill Phillips have been working on a highly innovative treatment for cancer. What this talented group did was to develop a way to "pump" a high concentration of an isotope of Rhenium into microscopic fat bubbles (nanoliposomes). This isotope emits a radioactive particle that travels a very short distance, causing the radiation effect essentially microscopically around the fat bubble.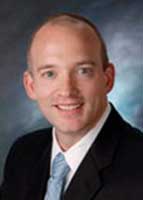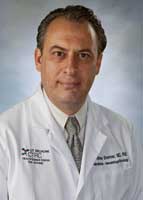 Working with Dr. Andrew Brenner (neuro-oncology) and Dr. John Floyd (neurosurgery),the team took this technology through the series of testing that was required to determine the impact of treatment on brain cancers. Using this technology, they found that the radioactive fat bubbles were taken up by brain cancers and result in remarkable rates of cure in animal models. Just over a year ago, the Food and Drug Administration granted the CTRC permission to initiate clinical trials with this agent. In partnership with the CTRC Foundation, a new technology company – NanoTx TherapeuticsTX – was founded and in February, we learned that the Cancer Prevention and Research Institute of Texas was incorporated.decided to provide matching funds for NanoTx. On March 10, the first patient was treated with this new technology, using highly sophisticated technology to precisely place a specially designed catheter into the brain tumor and infuse the nanoliposomes.
Time will tell whether this will be as promising a treatment as it seems to be in our initial research. If so, the CTRC and San Antonio may become a worldwide destination for treatment for brain cancer. 
The most important messages from this story are the following:  First, it is only in an environment like the UT Health Science Center and the CTRC can this very complicated process of discovery, development, and taking a treatment into human clinical trials be accomplished. This example is specifically why leading universities seek to have National Cancer Institute-designated cancer centers and the infrastructure with it as a part of their University.
However, perhaps the most important message of this story is that, when you have an institutional culture focusing on envisioning the next generation of cancer treatments and providing them to our patients today, it is our patients who— are friends and neighbors from San Antonio and South Texas — who are the first be have access to these groundbreaking treatments. After all, that's why we come to work every morning.
Congratulations to our teams of scientists, physicians, nurses and staff.  Congratulations and thanks as well to everyone in San Antonio and South Texas who helped make this and so many other discoveries at the CTRC possible.