Genomics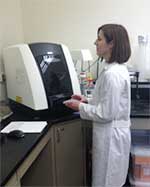 We have intellectual expertise and a range of molecular genetic assays that complement the interests, needs and existing resources of its users.
Offers whole genome gene expression microarray analysis using the Illumina iScan.
Quantity and quality assessment of nucleic acids (Nanodrop spectrophotometer) and Agilent Bioanalyzer.
Support for sample processing by providing services for isolating nucleic acids, as well as transforming lymphocytes to establish lymphoblastoid cell lines using Epstein-Barr virus.
Genotyping Services
Custom Multiplex High-Throughput Single Nucleotide Polymorphism (SNP) Genotyping
Genome-Wide Genotyping of SNPs
Applied BiosystemsTaqMan SNP Genotyping
Length Polymorphisms
Copy Number Variants (CNVs)
Gene Expression Services
Whole Genome Gene Expression
Custom Gene Expression Assays
MicroRNA (miRNA) Analysis
Medium Throughput Gene Expression Analysis
Contact
Robin Leach, Ph.D., director
210-567-6947
leach@uthscsa.edu
Teresa Johnson-Pais, Ph.D. co-director
210-567-6571
paist@uthscsa.edu
Marcia Grayson, staff
210-567-0950
grayson@uthscsa.edu