Macromolecular Structure & Interactions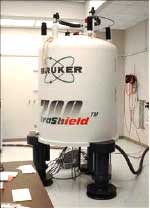 We support structural studies and studies of macromolecular interactions aimed at understanding mechanisms of cancer-related biomolecules, including signaling proteins, chaperones, enzymes involved in DNA repair, etc. and to utilize knowledge of structures and interactions, together with the ability to perform screening and investigate small molecule binding, to develop and discover novel therapies for treating cancer.
NMR Spectroscopy
Automated preparation of NMR samples, including addition of compounds from the Maybridge Ro3 fragment library, using the Gilson 213 liquid handler
Acquisition of NMR data, including automated acquisition, with hundreds of NMR samples
Assistance with NMR data processing, analysis, and three-dimensional structure determination
Assistance with titrations of isotope labeled macromolecules with unlabeled binding partners to map interaction surfaces with other macromolecules, ligands, and small molecule therapeutics
X-ray Crystallography
Automated setup and imaging of vapor diffusion or microbatch crystallizations trials
Automated addition of compounds from the Maybridge Ro3 fragment library to already formed crystals
Acquisition of X-ray diffraction data, including fragment screens, with hundreds of crystals
Assistance with X-ray data processing, macromolecular model building, and structure refinement
Macromolecular Interactions
Analysis of the kinetics and thermodynamics of interactions, including protein:protein, protein:nucleic acid, or protein or nucleic acid:inhibitor screening utilizing SPR with either our BIAcore 3000, which is suitable for studying macromolecular interactions, or our recently acquired BIAcore T100 instrument, which has greater sensitivity and is suitable for studying macromolecular or small molecule interactions.
Analysis of the thermodynamics of self-associating systems, simultaneous characterization of molecular weight distributions and degree of globularity, and study of conformational changes and macromolecular interactions utilizing one of our three Beckman-Coulter XL series analytical ultracentrifuges, two of which are equipped with absorbance and interference optical systems, and one equipped with absorbance and fluorescence optical systems.
Analysis of diffusion coefficients, monodispersity, particle size distributions, stoichiometries, molecular weights and assembly/disassembly rates using our Wyatt Dyno Nanostar DLS/SLS instrument.
Analysis of binding affinities, enthalpies, and stoichiometry for protein: protein, protein: nucleic acid, or protein or nucleic acid: small molecule binding using our MicroCal VP-ITC instrument.
Contact
Dmitri Ivanov, Ph.D., director
210-567-8781
ivanov@biochem.uthscsa.edu
Eileen Lafer, Ph.D., co-director
210-567-3764
lafer@biochem.uthscsa.edu