Crime Prevention
UT Police takes a proactive approach to crime prevention, through providing educational materials, resources and community meetings which address a wide range of crime prevention and safety issues. Remember, crime prevention is a shared responsibility
Crime prevention unit
The first step in crime prevention is to realize that crime prevention is a shared responsibility. It is not a police, security or university problem. It is a community problem that can only be properly addressed by the students, faculty, staff, visitors and neighbors of our campus community. Therefore, campus safety is truly a shared responsibility.
Our goal is to help individuals prevent crime by helping them make decisions in their everyday lives to reduce the opportunity for crime to occur, whether on campus or not.
UT Police offers a variety of crime prevention programs to our community members, including:
Personal safety awareness
Sexual assault awareness
Motor vehicle theft prevention
New student and employee police service orientation
Alcohol awareness
Drug awareness
Crime prevention is important to the campus community and you can help by reporting any crime or suspected crime to UT Police immediately by dialing non-emergency line 210-567-2800, option 3 or dialing 9-1-1. By doing so, you may be preventing someone else from becoming a victim of a more serious crime.
Police and public safety officers are available and glad to give demonstrations and talks to interested campus groups. Call our crime prevention officer for additional information at 210-567-2800, option 3.
Theft prevention
Theft is a major problem on campuses throughout the nation, including ours. UT Police needs your help to prevent theft from occurring.
Don't become a victim. Always follow these tips to keep yourself safe:
Close and lock your door when you leave your office, even if you are only going to be gone for short period of time.
Don't leave your purse or wallet out in the open.  Keep it locked in a desk drawer or file cabinet.
Watch for suspicious individuals in your area.  If you see someone lingering or acting suspicious, obtain a good physical description and call the police immediately.
Do not give out security access codes to doors or alarms.
Vehicle theft/burglary
Here are a few easy ways to guard yourself from being a victim of auto theft:
Take your keys with you. One out of every five vehicles that is stolen has the keys in it.
Lock your car. Approximately half of all vehicles stolen were left unlocked.
Never hide a second set of keys in your car. Extra keys can easily be found by a thief.
Park in well-lit areas.
Park in attended lots. Auto thieves do not like witnesses.
Never leave your car running, Even if you'll only be gone for a short period of time. Vehicles are commonly stolen at convenience stores, gas stations, ATMs, etc. Many vehicles are also stolen on cold mornings when the owner leaves the vehicle running to warm up. Leaving your key in an unattended motor vehicle is a crime in Texas punishable by a fine of up to $200.
Completely close car windows when parking. Don't make it any easier for the thief to enter your vehicle.
Don't leave valuables in plain view. Don't make your car a more desirable target for thieves by leaving valuables in plain sight.
Report crime
If you see something, say something. Call it in. If you witness or suspect a crime, report it to UT Police immediately. Call our non-emergency line at 210-567-2800, option 3 or dial 9-1-1.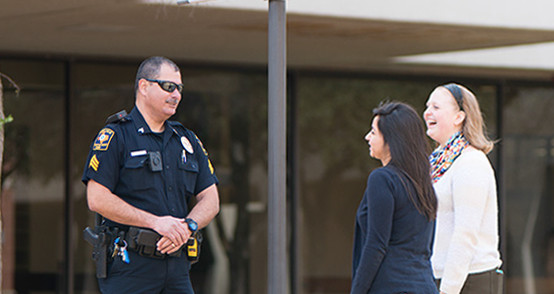 Crime Prevention Links