President's Biography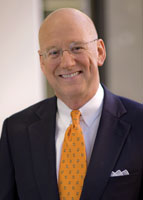 William L. Henrich, M.D., MACP, a specialist in kidney diseases, has served as the president of The University of Texas Health Science Center at San Antonio (now called UT Health San Antonio) since 2009. Dr. Henrich is the inaugural holder of the John P. Howe, III, M.D., Distinguished Chair in Health Policy.
He received his undergraduate degree from Columbia University and his medical degree from Baylor College of Medicine, and later completed a residency in Internal Medicine at The University of Oregon Medical School and a fellowship in Nephrology at The University of Colorado School of Medicine.
Dr. Henrich served as Professor of Medicine at The University of Texas Southwestern School of Medicine, as Professor and Chair of Medicine at the Medical College of Ohio, and as the Theodore Woodward Professor and Chairman of the Department of Medicine at The University of Maryland School of Medicine in Baltimore. He became the Dean of the School of Medicine and Vice President for Medical Affairs at UT Health San Antonio in 2006. He is the author of over 300 articles and chapters, and the founding editor of the popular dialysis textbook "Henrich's Principles and Practice of Dialysis". He has research interests in hemodynamic stability during dialysis and the intrarenal renin-angiotensin system.