Medical Student Council
Undergraduate Medical Education
Doctor of Medicine (M.D.)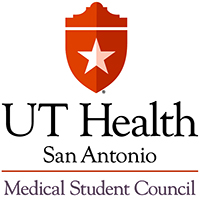 The Medical Student Council (MSC) was created in order to fulfill the following promises to the medical students of the UT Health San Antonio Long School of Medicine:
To advocate for the interests of our medical school peers.
To form official opinions on behalf of the student body regarding administrative policies.
To accurately and independently represent the student body in its interactions with the University.
To promote communication, cooperation, and understanding between the students, faculty, and administration.
MSC Roster (updated August 2021)
MSC Bylaws (last ammendment 8.12.21)
Medical Student Council Meetings are open to all medical students and will be held on MS Teams until further notice. Students should check MSC Canvas page for meeting access.
Office hours
Monday – Friday, 8:00 am to 5:00pm
Dolph Briscoe, Jr. Library, 5th floor
Map to Our Office
Drop-in Advising Hour
Normal campus operations – Every Wednesday from 1-2 pm in Howe Conference Room (Library)
During COVID closures – Every Wednesday from 1-2 pm on Drop-in Advising Microsoft Teams