Dental Hygiene Master of Science Program
The mission of the Dental Hygiene division is to promote wellness by improving oral health in local, regional, national, and international communities through innovative learner-centered education, quality service and patient care, and integrated research.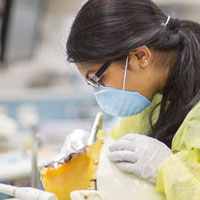 UT Health San Antonio's Master of Science in Dental Hygiene degree prepares the graduate to assume positions of responsibility beyond those of the baccalaureate graduate and to provide a foundation for doctoral level study. The program is student-centered, individualized and flexible. The faculty is committed to facilitating the development of creative thinking professionals who are competent to pursue careers in teaching, public/community health care, industry and research. Self-evaluation and self-direction are encouraged throughout the program. Students have the opportunity to share their experiences, knowledge and skills, work cooperatively with colleagues, and explore a variety of resources to help them reach their maximum potential as health care professionals.
Our program provides graduates with the skills to assume leadership roles in academics, rural and community health settings, research, professional associations and commercial industry. We prepare educators for faculty positions in entry and graduate level dental hygiene programs, thereby alleviating the national shortage of dental hygiene faculty. And, we add to the body of knowledge of dental hygiene through student, graduate, and faculty generated scholarly activity.
Learn more about the Dental Hygiene Master of Science Program
Distance Education Program
Distance education is learning that takes place in locations other than the traditional classroom environment. Successful distance learning requires the discipline of students to allocate time for study that would occur in a classroom. It allows greater learner flexibility in the hours chosen to participate in gaining new knowledge. The 36 credit hour graduate program may be completed on a full or part-time basis, and requires a minimum of 1 ½ - 2 academic years for full-time students and a maximum of 6 years for part-time students. Six of the 36 credit hours may be transferred from another institution.
"My excellent mentors assisted me in making a real contribution to the profession. I wanted my thesis work to be relevant, and I was excited to receive grant funding and the opportunity to present my research at national meetings."
-Prema Strecker, M.S., R.D.H., Dental Hygiene faculty, Austin Community